Tips Houdini SideFX.
Création d'une spirale
Intégrer l'expression Vex dans le noeud « Attribute expression » :
set(cos(@P.y * ch("freq")) * ch("amplitudeX") + ch("offsetX"), @P.y, sin(@P.y * ch("freq")) * ch("amplitudeZ") + ch("offsetZ"));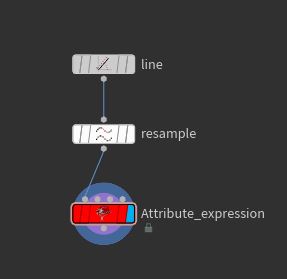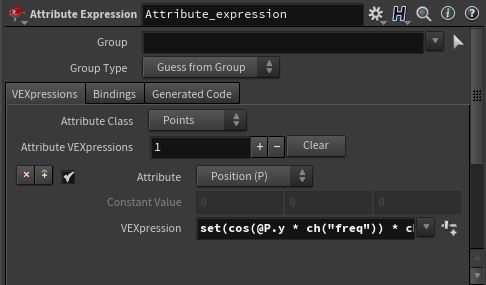 Noise displacement / Color displacement
Cette imbrication que j'oublie en permanence.
Dans un « Point VOP » (cliquez pour zoomer):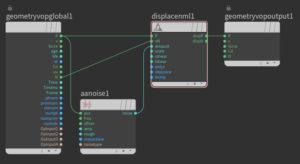 Comprendre la fonction « primuv »
Cette fonction permet d'interpoler les attributs (ici de position) des points d'une geo A sur une geo B.
Sur l'exemple ci-dessous, la fonction s'applique à une geo B de type NURBS ou Primitive (1 primitive unique donc).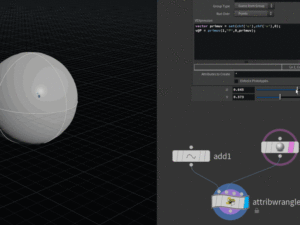 Sur cette exemple en revanche, la fonction s'applique sur une geo B de type Polygon. (Multi-facettes).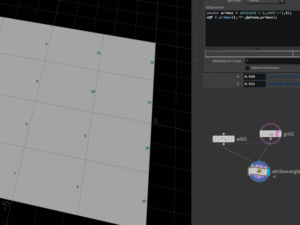 Noeuds
Peak : Moves primitives, points, edges or breakpoints along their normals.
Carve : Slices, cuts or extracts points or cross-sections from a primitive.
Point Velocity : Computes and manipulates velocities for points of a geometry.
Convert Line : Ne conserve que les lignes (edges) d'une géométrie.
Déplacer le long d'une normal
Déplacer un point d'après la longueur de sa normal.
float scaleFactor = 0.3;
@P = @P+@N*scaleFactor;
Insérer un point au centre de chaque primitive
Sur un Attribute Wrangle de Primitive.
addpoint(0,@P);
removeprim(0, @primnum, 1);